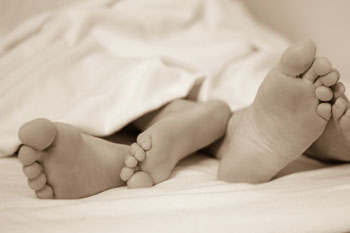 Have you ever had friends complain to you that their girlfriend is not up for some experimenting in the bedroom? Maybe you are one of those people yourself; it's certainly a common stumbling block in relationships. And we all know that the root of these problems can be summed up in a single word: porn. After all, if all those hours of porn-watching have taught us anything, it's that your girl shouldn't stop at nothing in order to get you to orgasm. But is that really the normal behaviour? It all comes down to that age-old question – is porn like real sex?
One of the key reasons for dissatisfaction is the length of the act itself. Most professional porn movies are long, drawn-out affairs in which everyone involved orgasms multiple times. There is a reason for this: most porn is geared towards men, who all climax at different rates while masturbating. In other words, that porn star chick screaming her lungs out for the duration of the movie while her co-star is going at her like a jackhammer is simply faking it for your viewing pleasure. If you don't hear them talking about it in the media, that's because they have a career to take care of. In reality, at least half women occasionally fake an orgasm in order to please their partner, and about one third of them have trouble reaching climax during sex.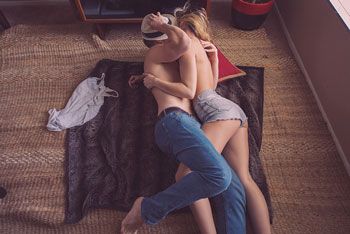 Also, a prolonged dose of sex will more often than not result in a deeply uncomfortable experience for both parties. Recent studies have shown that real sex lasts about 20 minutes on average – foreplay included! If you want to get technical about it, most men would need a healthy dose of Viagra in order to last for hours on end. As a matter of fact, a quarter of all men have reported dissatisfaction about reaching climax too quickly.
On a more positive note, those male porn stars are not exactly your ordinary specimens. If you've ever felt envy while looking at the size of their erect penis, rest easy in knowing that 20+ cm is far from the average penis length. There's a reason these people are porn stars, and penis length is one of the more important requirements. And while we're at it, just because almost all of them are circumcised doesn't mean you are obliged to do the same; in real life, about 70% of men are uncut.
It works the other way around, too: just because almost all female porn stars shave their nether regions doesn't mean that's a requirement in order to have sex. This is another way porn leads to unreasonable expectations. Some women might prefer trimming, while some opt to leave their bush as it is altogether; either way, it's their body and they have the right to do whatever they want with it.
The Differences Between Porn and Real Sex
As you can see, the differences between porn and real sex are quite drastic. The next time you walk into your bedroom with porn expectations, try to remember that every sex scene you've ever watched took hours to film and edit before it became ready for mass production. Porn is not real life, and we are all the better for it.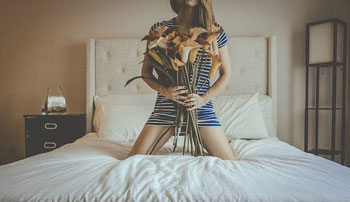 On the other hand, you can take some ideas for your sex life from porn movies. The bedroom can be more fun place. But don't take this literally. You can't ask your partner to do the same things that you saw in the film. Remember that your girlfriend is not a porn star. She might be willing to do some of the things that you watched, but porn is not the real life. So don't ask your partner to do some crazy sex position. The ideas that  I am talking about and that you can pick up from the story of the movie are more or less how to set up the mood in your bed. Like flower petals on the bed, nice music, candles and dim lights.
In high class porn production there is always a story that in real life can't happen. This fictional story is made for the viewer pleasure. There all kinds of stories of these productions which you want to happen to you and that's why you like these stories. These stories are made to satisfy your fantasies and there are not real in any way. The producer wants to satisfy your dream so you will watch the movie. Let's admit it, porn is made from men for men.
You probably notice that actresses have a nice tan and wear makeup during filming the scenes. That because on the movie set there is a professional makeup artist that takes care of their makeup before the scene is going to be filmed.  There is also a dress up for both the actors and actresses to make them sexy and look better in front of the camera.
The stress that actors and actresses experience because they're filmed in front of the camera crew and are pressed to perform at their best. Their circumstances make filming difficult. That's because porn is not real life.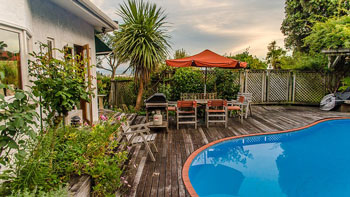 The stage almost every time is a beautiful house with nice view. That house is actually rented for a day to shoot the movie. And there isn't always a permit to shoot porn production, so police may show up and put an end to the shoot. This is one of the obstacles that you won't encounter in your home. That is a real difference between real life sex and porn movies. Of course you can rent indeed a very nice place and spice up your life a little bit.
If you have conservative partner that doesn't want to try anything naughty and you want to try something new and exciting you could call escort services. With an escort girl, your dreams can become true. There are lots and lots of escort agencies. After a quick search you will find that there is a sea of escort agencies. How would you choose?.
Escort agencies
X Cheap Escorts is an escort agency. The agency present for you one of the most beautiful escorts in London. The company of the escorts is only £80 per hour. You could browse their escorts gallery and choose from there. After that you can call them on 07777 111 777 and book an escort.